VIETNAM
* Month for work safety to be launched in May
http://english.vietnamnet.vn/fms/society/199272/month-for-work-safety-to-be-launched-in-may.html
* TAL Group's $350-million project refused over environmental risks?
Despite its eagerness to develop a $350-million textile and garment dyeing project in the northern province of Vinh Phuc, Hong Kong-backed TAL Group may fail to get the investment certificate due to the provincial authorities' concerns about environmental pollution….
http://www.vir.com.vn/tal-groups-350-million-project-refused-over-environmental-risks-58633.html
* Textile-garment exports seen at $35b this year
http://vietnamnews.vn/economy/426508/textile-garment-exports-seen-at-35b-this-year.html
* Optimistic outlook for textile and garment exports in 2018
http://english.vietnamnet.vn/fms/business/199306/optimistic-outlook-for-textile-and-garment-exports-in-2018.html
* PM calls for new measures to boost exports
http://vietnamnews.vn/economy/426876/pm-calls-for-new-measures-to-boost-exports.html
* Vietnam is big winner of free trade deals
http://english.vietnamnet.vn/fms/business/199435/vietnam-is-big-winner-of-free-trade-deals.html
! Internet connections slows in Việt Nam as int'l undersea cable down
http://vietnamnews.vn/society/426910/internet-connections-slows-in-viet-nam-as-intl-undersea-cable-down.html
CAMBODIA
* Workers protest closed factory
https://www.phnompenhpost.com/national/workers-protest-closed-factory
* Unpaid workers planning procession
https://www.khmertimeskh.com/50303356/unpaid-workers-planning-procession/
* Labour group appeals for Workers' Day march
https://www.phnompenhpost.com/national/labour-group-appeals-workers-day-march
* Massive May Day rally planned for capital
https://www.khmertimeskh.com/50483265/massive-may-day-rally-planned-for-capital/
* PM warns unions ahead of poll
https://www.phnompenhpost.com/national/pm-warns-unions-ahead-poll
* A close look at the garment industry with GMAC's John Cha
https://www.khmertimeskh.com/50303606/a-close-look-at-the-garment-industry-with-gmacs-john-cha/
* GSP extension comes into effect
https://www.khmertimeskh.com/50483126/gsp-extension-comes-into-effect/
* EU, US unlikely to revoke trade status, research group says
https://www.phnompenhpost.com/business/eu-us-unlikely-revoke-trade-status-research-group-says
INDONESIA
* garment workers appeal CEO Uniqlo in letters to take action on severance debt
https://cleanclothes.org/news/2018/04/19/indonesian-garment-workers-appeal-ceo-uniqlo-in-letters-to-take-action-on-severance-debt
BANGLADESH
* Protesters seek justice, demand compensation
http://www.newagebd.net/article/39803/protesters-seek-justice-demand-compensation
* Vigil held in remembrance of Rana Plaza victims
https://www.dhakatribune.com/bangladesh/dhaka/2018/04/24/vigil-held-remembrance-rana-plaza-victims/
&
https://www.dhakatribune.com/bangladesh/nation/2018/04/24/five-years-rana-plaza-losing-loved-ones-still-unacceptable/
* Rana Plaza's 'forgotten' victims battle poverty as money dries up
https://www.dhakatribune.com/bangladesh/2018/04/24/rana-plazas-forgotten-victims-battle-poverty-money-dries/
* Justice demanded on Rana Plaza anniversary
https://www.thedailystar.net/country/justice-demanded-rana-plaza-anniversary-1567087
* Fifth anniversary: People from all walks of life pay tribute to Rana Plaza victims
https://bdnews24.com/bangladesh/2018/04/24/fifth-anniversary-people-from-all-walks-of-life-pay-tribute-to-rana-plaza-victims
* 5 yrs on, families of many Rana Plaza tragedy victims get nothing
http://www.unb.com.bd/bangladesh-news/5-yrs-on-families-of-many-Rana-Plaza-tragedy-victims-get-nothing/69001
* About 50% survivors still unemployed
http://thefinancialexpress.com.bd/national/about-50pc-survivors-still-unemployed-1524542412
* Wounds of Rana Plaza collapse fester on
http://www.newagebd.net/article/39694/wounds-of-rana-plaza-collapse-fester-on
* Survivors' woes continue
http://www.newagebd.net/article/39637/survivors-woes-continue
* Rana Plaza: In remembrance at Jurain graveyard
https://www.thedailystar.net/country/rana-plaza-tragedy-in-remembrance-at-dhaka-jurain-graveyard-1567099
* Rana Plaza victims remembered at Savar
http://www.newagebd.net/article/39482/rana-plaza-victims-remembered-at-savar
* "They have forgotten the lessons of Rana Plaza"
https://www.equaltimes.org/they-have-forgotten-the-lessons-of#.WtnS-da-lhE
* Five years of agony: Bangladesh factory disaster survivors await justice
http://www.france24.com/en/20180422-five-years-agony-bangladesh-factory-disaster-survivors-await-justice
&
http://www.newagebd.net/article/39638/victims-await-justice
&
http://en.prothomalo.com/bangladesh/news/174528/Rana-Plaza-survivors-await-justice
* Bangladesh factories still unsafe five years after collapse
https://www.aljazeera.com/news/2018/04/bangladesh-factories-unsafe-years-1-100-killed-collapse-180424130818671.html
* Five years after Rana Plaza, Bangladesh still needs $1.2 billion fix
https://opinion.bdnews24.com/2018/04/24/five-years-after-rana-plaza-bangladesh-still-needs-1-2-billion-fix/
* Five years on from Rana Plaza: 'Increase national capacity instead of foreign dependency'
https://www.dhakatribune.com/business/2018/04/23/five-years-rana-plaza-increase-national-capacity-instead-foreign-dependency/
* Five years on from Rana Plaza: Workers' empowerment key to making workplace safety sustainable
https://www.dhakatribune.com/bangladesh/2018/04/24/five-years-rana-plaza-workers-empowerment-key-making-workplace-safety-sustainable/
* Global fashion giants yet to establish fair supply chain
http://thefinancialexpress.com.bd/trade/global-fashion-giants-yet-to-establish-fair-supply-chain-1524509544
* Rana Plaza was a man-made disaster: Rushanara Ali
http://www.unb.com.bd/bangladesh-news/Rana-Plaza-was-a-man-made-disaster-Rushanara-Ali/69046
&
http://thefinancialexpress.com.bd/national/rana-plaza-was-a-man-made-disaster-rushanara-ali-says-1524545825
&
http://www.newagebd.net/article/39751/rana-plaza-was-a-man-made-disaster-rushanara-ali
* Lessons from Rana Plaza
We have learnt ours, have the buyers learnt any?
https://www.thedailystar.net/editorial/lessons-rana-plaza-1567222
* Five years after the collapse of Rana Plaza, investors take stock of progress made to safeguard garment workers
http://iccr.org/five-years-after-collapse-rana-plaza-investors-take-stock-progress-made-safeguard-garment-workers
* Five years on, no headway in Rana Plaza case as testimonies stall
https://bdnews24.com/bangladesh/2018/04/24/five-years-on-no-headway-in-rana-plaza-case-as-testimonies-stall
* Stakeholders recall Rana Plaza tragedy
http://en.prothomalo.com/bangladesh/news/174593/Stakeholders-recall-Rana-Plaza-tragedy
* Rana Plaza collapse: Demo held demanding death penalty for Rana
https://www.dhakatribune.com/bangladesh/nation/2018/04/24/rana-plaza-collapse-demo-held-demanding-death-penalty-rana/
* No progress in Rana Plaza cases trial proceedings
https://www.dhakatribune.com/bangladesh/court/2018/04/24/no-progress-rana-plaza-cases-trial-proceedings/
* Rana Plaza trials stuck in stay
https://www.thedailystar.net/city/rana-plaza-trials-stuck-stay-1566967
* Court sets May 16 for deposition over Rana Plaza collapse case
http://www.newagebd.net/article/39521/court-sets-may-16-for-deposition-over-rana-plaza-collapse-case
* 13 years since first ever garment factory collapse
https://www.dhakatribune.com/opinion/special/2018/04/24/13-years-since-first-ever-garment-factory-collapse/
* Brands sourcing from Bangladesh urged to support workers' minimum wage demands
https://cleanclothes.org/news/2018/04/25/brands-sourcing-from-bangladesh-urged-to-support-workers2019-minimum-wage-demands
* How women labour leaders are changing the landscape in RMG
https://www.thedailystar.net/opinion/how-women-labour-leaders-are-changing-the-landscape-rmg-1566736
* Bangladesh still popular for low-cost apparel
https://www.thedailystar.net/business/bangladesh-still-popular-low-cost-apparel-1566334
* Danish retailers pay highest for apparel
Survey finds UK is the lowest payer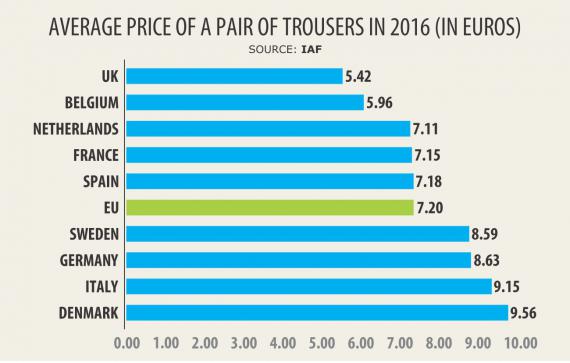 https://www.thedailystar.net/business/danish-retailers-pay-highest-apparel-1565017
* RMG workers' database not ready even after 5yrs
The Bangladesh Garment Manufacturers and Exporters Association is yet to complete the central biometric database of garment workers five years after taking up the initiative….
https://www.thedailystar.net/business/rmg-workers-database-not-ready-even-after-5yrs-1567972
* Cash payment deprives RMG workers of banking benefits
http://www.newagebd.net/article/39382/cash-payment-deprives-rmg-workers-of-banking-benefits
&
http://thefinancialexpress.com.bd/trade/rmg-workers-to-enjoy-benefits-of-formal-banking-1524133112
* Sarathi: Vehicle for financial inclusion of RMG workers launched
https://www.dhakatribune.com/business/2018/04/20/sarathi-vehicle-financial-inclusion-rmg-workers-launched/
* Global fashion giants yet to establish fair supply chain
http://thefinancialexpress.com.bd/trade/global-fashion-giants-yet-to-establish-fair-supply-chain-1524509544
* Remediation of left-out RMG factories
http://thefinancialexpress.com.bd/views/columns/remediation-of-left-out-rmg-factories-1524585878
* Alliance to form joint entity to oversee factory safety
http://www.newagebd.net/article/39784/alliance-to-form-joint-entity-to-oversee-factory-safety
* SOCIAL AUDITS IN APPAREL INDUSTRY: Certified safety or reckless reports?
http://www.newagebd.net/article/39696/certified-safety-or-reckless-reports
* Apparel Workers' Safety: Promises made mostly not implemented
http://www.newagebd.net/article/39720/promises-made-mostly-not-implemented
* RMG Since Rana Plaza Disaster: Workplace safety improved a lot
https://www.thedailystar.net/frontpage/rmg-rana-plaza-disaster-workplace-safety-improved-lot-1566919
* SMO, Transitional Accord to monitor safety progress in RMG sector
https://www.dhakatribune.com/business/2018/04/22/smo-transitional-accord-monitor-safety-progress-rmg-sector/
* RMG sector now role model for safe working condition, claims BGMEA
http://www.newagebd.net/article/39584/rmg-sector-now-role-model-for-safe-working-condition-claims-bgmea
&
http://thefinancialexpress.com.bd/trade/rmg-sector-now-role-model-of-workplace-safety-bgmea-1524320676
&
* FIVE YEARS AFTER RANA PLAZA DISASTER
Bangladesh's garment industry now a model for workplace safety
https://www.thedailystar.net/business/bangladeshs-garment-industry-now-model-workplace-safety-1567009
* BGMEA critical of 'propaganda' against industry
http://www.unb.com.bd/business-news/BGMEA-critical-of-propaganda-against-industry/68812
* Textile millers demand fair prices for gas, power
http://www.newagebd.net/article/39705/textile-millers-demand-fair-prices-for-gas-power
&
https://www.thedailystar.net/business/textile-millers-decry-proposed-gas-price-hike-1567015
* Garment makers seek full waiver of source tax
https://www.thedailystar.net/business/garment-makers-seek-full-waiver-source-tax-1567387
&
http://www.banglanews24.com/business/article/68127/BGMEA-seeks-source-tax-exemption
* Trade-based money laundering on the rise
https://www.thedailystar.net/business/trade-based-money-laundering-the-rise-1567393
&
http://www.newagebd.net/article/39786/majority-of-money-laundering-occur-thru-banking-channel-seminar
INDIA
* Two workers charred to death in garment unit fire
http://www.thehindu.com/news/cities/Delhi/fire/article23651753.ece
&
http://www.india.com/news/india/kailash-nagar-fire-2-people-dead-in-garment-factory-locals-claim-that-fire-brigades-arrived-late-3015430/
&
https://www.deccanchronicle.com/videos/news/2-dead-in-fire-at-garment-warehouse-in-delhi.html
* Delhi's Factory Fires Swallow More Workers
In the sixth such incident this year, and fourth this month, two workers died in a fire at a jeans manufacturing unit in Shahdara.
A total of 28 workers have reportedly died in factory fires in 2018 so far….
https://newsclick.in/delhis-factory-fires-swallow-more-workers
* In Narol, the Lives of Migrant Garment Workers Hang By a Thread
https://thewire.in/labour/in-narol-the-lives-of-migrant-garment-workers-hangs-by-a-thread

* Fortunes begin to swing for Sircilla weavers
Apparel park would employ over 10,000 people, with focus on women ….
http://www.thehindu.com/news/national/telangana/fortunes-begin-to-swing-for-sircilla-weavers/article23631274.ece
* Samarth scheme launched to train 10L youths in textile sector
https://timesofindia.indiatimes.com/city/surat/samarth-scheme-launched-to-train-10l-youths-in-textile-sector/articleshow/63902216.cms
* Endgame for garment exports?
http://www.thehindu.com/opinion/columns/endgame-for-garment-exports/article23630821.ece
* Miffed over fall in exports, garment exporters demand cut in lending rate
https://timesofindia.indiatimes.com/city/ludhiana/miffed-over-fall-in-exports-garment-exporters-demand-cut-in-lending-rate/articleshow/63869553.cms
* Minimise wastage at source
http://www.thehindu.com/todays-paper/tp-features/tp-metroplus/minimise-wastage-at-source/article23665185.ece
* Polyester project proposed at Bhadrak textile park
http://www.newindianexpress.com/states/odisha/2018/apr/20/polyester-project-proposed-at-bhadrak-textile-park-1803972.html
* In a First, Assam's Cotton University Discusses LGBTQ Rights
https://thewire.in/gender/in-a-first-assams-cotton-university-discusses-lgbtq-rights
* Canals dry, cotton sowing hit
http://www.tribuneindia.com/news/punjab/canals-dry-cotton-sowing-hit/578164.html
* Pink bollworm-hit farmers yet to get relief in Maharashtra
https://www.hindustantimes.com/mumbai-news/pink-bollworm-hit-farmers-yet-to-get-relief-in-maharashtra/story-E8ZIix622NBP8FbnT83UAN.html
* Seed testing facilities in India are fairly good: ISTA secretary-general
http://www.thehindu.com/news/cities/Hyderabad/seed-testing-facilities-in-india-are-fairly-good-ista-secretary-general/article23665812.ece
PAKISTAN
* Shoe factory reduced to ashes
KASUR-The merchandise and equipment were reduced to ashes after a fire broke out in a shoe factory due to  short circuit at Basti Charagh Shah here the other day. According to the rescue sources, the fire erupted in a shoe factory due to short circuit. It reduced the merchandise and equipment worth Rs400,000 to ashes.
https://nation.com.pk/22-Apr-2018/shoe-factory-rice-crops-reduced-to-ashes
* Victims of Rana Plaza, Baldia Factory fire remembered
https://dailytimes.com.pk/232198/victims-of-rana-plaza-baldia-factory-fire-remembered/
* Sindh's new labour policy will protect jobs, says minister
https://www.thenews.com.pk/print/307429-sindh-s-new-labour-policy-will-protect-jobs-says-minister
* Textile sector top priority in budget
https://tribune.com.pk/story/1695284/2-textile-sector-top-priority-budget/
* Despite getting incentives, textile exporters still struggle
https://tribune.com.pk/story/1693976/2-despite-getting-incentives-textile-exporters-still-struggle/
* Waiting for more concessions, Chinese hold off textile investment in Pakistan
https://www.thenews.com.pk/print/306555-waiting-for-more-concessions-chinese-hold-off-textile-investment-in-pakistan
* Textile exports increase to $9.9bn
https://www.dawn.com/news/1403547/textile-exports-increase-to-99bn
&
https://www.thenews.com.pk/print/308200-textile-exports-up12-95-percent-in-march
* Textile exports unlikely to thrive as long as policies remain threadbare
https://www.thenews.com.pk/print/307380-textile-exports-unlikely-to-thrive-as-long-as-policies-remain-threadbare
* Thar Foundation empowers, trains women
Indira, 18 years old and a resident of Thario Halepoto village located in the Thar Desert, has become a home-based industrial worker as a part of small-to-medium sized enterprise, to secure herself from exploitation by middlemen….
https://dailytimes.com.pk/229836/thar-foundation-empowers-trains-women/
* German investors keen to invest in Pakistan
Commercial Counselor Embassy of Germany Islamabad Dr Martin Herzer on Monday said there was a vast scope of enhancing Pak-German bilateral trade relations whereas German investors were also taking keen interest to invest in various sectors in Pakistan.
He was addressing the exporters at Pakistan Hosiery Manufacturers and Exporters Association (PHMA) North Zon eoffice here.
Umar Majeed Commercial Specialist Economic & Trade Section was also accompanied while exporters Dr Khuram Tariq, Qamar Aftab, Muhammad Amjad Khawaja and others were also present on the occasion.
He said that a traders' delegation from Germany would soon visit to Pakistan to explore business opportunities in Pakistani market.
He said that Germany was exporting modern machinery for textile especially for value added textile sector which would help Pakistani textile manufacturers to bring improvement in quality of their products and reduce cost of doing business.
German government would encourage the joint ventures with large Pakistani units, he added…..
https://nation.com.pk/24-Apr-2018/german-investors-keen-to-invest-in-pakistan
* Bilateral trade: 'Potential exists to boost volume'
https://tribune.com.pk/story/1694423/2-bilateral-trade-potential-exists-boost-volume/
* Pakistan's export performance is correlated to cotton prices – and this is a concern
https://tribune.com.pk/story/1692677/2-pakistans-export-performance-correlated-cotton-prices-concern/
* The real cost of cheap shirts
https://tribune.com.pk/story/1693206/9-real-cost-cheap-shirts/
AFRICA
* The US's Petty Policy on Used Clothes for Africa
https://thewire.in/world/the-uss-petty-policy-on-used-clothes-for-africa
SOUTH AFRICA
* SACTWU Condemns the Appropriation of maXhosa's Designs By Zara
https://groups.google.com/forum/#!topic/sactwu-media-releases/bXhlZN5OyCM
&
https://www.businessinsider.co.za/proudly-sa-condemns-zaras-copy-of-local-designers-work-2018-4
* Outrage as Zara is accused of ripping off a beloved SA brand
https://www.businessinsider.co.za/zara-unashamedly-plagiarises-sas-maxhosa-by-laduma-patterns-in-their-new-clothing-range-2018-4
* Statement for Monday's press conference on 25 April general strike
http://saftu.org.za/statement-for-mondays-press-conference-on-25-april-general-strike/
OTHER
* More than 700 million workers living in poverty in emerging and developing countries: ILO
https://economictimes.indiatimes.com/news/international/business/more-than-700-million-workers-living-in-poverty-in-emerging-and-developing-countries-ilo/articleshow/63856381.cms
+++++++++++++++++++++++++++++++++++++
See more:  https://dressedandstripped.fr/archives/