04

:

39

:

59

local time MONGOLIA
* Speaker visits SME factories:
On Saturday, Speaker of the Parliament Z.Enkhbold visited the factories of Sor Cahsmere and Khishigten Gal to become acquainted with their activities.
Beginning the visit, head of the Sor Cashmere factory D.Battsengel introduced that they are executing all stages of production to make raw materials into finished products.
Sor Cashmere took out a three billion MNT loan at an eight percent annual interest rate for five years from the Development Bank of Mongolia.
They spent the money on equipment upgrades.
The company bought eight digital knitting machines from German company Stoll. The equipment allows the company to produce 20,000 to 24,000 units of product per year.
Executive Director B.Barkhasvadi told the Speaker that 1.8 billion MNT of the loan has been repaid, and that the remaining balance will be paid according to a repayment schedule.
The company said that expanding the factory's operations also diversified the company's export products and improved their quality.
As of today, the company employs over hundred people and processes 60 to 100 tons of cashmere, 200 tons of camel wool, and over 30 tons of yak wool.
Sor Cashmere collaborates with over 200 domestic weaving workshops, and exports their products to over 10 countries.
read more.

04

:

39

:

59

local time CHINA
20150706-07

* 14 dead in east China shoe factory collapse:

Fourteen people have been confirmed dead as bodies of the last two known buried under the debris of a collapsed shoe factory building in east China's Zhejiang Province on Saturday were recovered, local government said Monday.

Another 33 were injured in the collapse, four of whom were seriously hurt.
read more. & to read. & to read. & to read.

20150706

* Twelve dead in China factory collapse: media:
Twelve people died after a shoe factory collapsed in eastern China, local media reported Sunday, with more than 40 escaping on their own or being rescued.
More than 50 people were in the four-storey building in the city of Wenling in Zhejiang province when it came down on Saturday afternoon, the official Xinhua news agency reported.
Thirty-three suffered injuries, four of them serious, the report said. Nine others escaped unharmed, it added.
The cause of the collapse was being investigated.
"There was no premonition," the report quoted worker Yang Zhongkun as saying. "I heard a 'bang' and saw the building collapse."
Yang added that water flowed down from a large fishing pool on the roof of the building, while other employees said leaking water was reported before the building gave way, Xinhua said.
A total of 53 fire trucks, 302 rescuers and five rescue dogs responded to the collapse, the report said.
Photos circulating on Chinese social media showed a man being carried on a stretcher by what appeared to be police officers, while rescuers and other personnel stood on top of the rubble.
read more.

20150706

* Zhejiang shoe factory collapse kills at least 12 workers, injures 33 others:

Wenling shoe factory, the day after the collapse. Photograph: Xinhua.
At least 12 workers died and another 33 were injured when a four storey factory building in the eastern coastal city of Wenling, Zhejiang, suddenly collapsed on Saturday afternoon, 4 July.
Two workers are still unaccounted for.
There were more than 50 people working in the shoe factory at the time of the collapse.
Witnesses told the official Xinhua News Agency that there was loud bang and the entire fourth floor collapsed on to the second floor.
The cause of the collapse is still being investigated but several witnesses said there had been large pool, about one metre deep, containing fish on the top floor of the building, and that they had seen water leaking from the pool prior to the building collapse.
Shoddy construction and a fundamental disregard for workplace safety means that factory building collapses are not uncommon in China.
read more.

20150705

* 12 dead in east China shoe factory collapse:

Twelve people have been confirmed dead and two remained missing after a shoe factory collapsed in east China's Zhejiang Province on Saturday, local government said.

(…)
"There was no premonition. I heard a 'bang' and saw the building collapse," 42-year-old worker Yang Zhongkun told Xinhua.

Yang said right after the collapse, water poured down from a large fishing pool built on the roof of the building. Other workers said water leak had been reported before the collapse.
Local authorities dispatched 53 firefighting trucks, 302 rescuers and five sniffer dogs.
read more. & to read.& to read.& to read. & to read.

20150705

* Death toll in east China factory collapse rises to 11:

Eleven people have been confirmed dead in a factory building collapse in east China's Zhejiang Province as of Sunday afternoon, local government said.

Three others are missing. Another 33 were injured in the collapse, four of whom were seriously hurt.

According to the local police, 51 people were working in a shoe factory in Folong Village, Wenling City when the building collapsed at around 4 p.m. Saturday.

Nine narrowly escaped. Rescuers pulled 42 out of the rubble and sent them to the hospital as of 1:30 a.m., nine of whom died despite treatment.
read more. & to read. & to read. & to read.

20150705

* Death toll in east China factory collapse rises to 9:

The death toll from a factory building collapse in east China's Zhejiang Province has risen to nine, the local government said Sunday.

Fifty-one people were working in the shoemaking factory in Wenling City when the building collapsed at around 4 p.m. Saturday. Nine narrowly escaped.
Rescuers had pulled out 42 and sent them to hospital as of 1:30 a.m.

The cause of the accident is under investigation.
to read. & to read. & to read.  & to read. & to read.& read more.

20150705

*

6 dead in east China factory collapse

:

Six people died in hospital after being rescued from the rubble of a factory building that collapsed on Saturday afternoon in east China's Zhejiang Province, local government said.

Fifty-one people were working in the factory building of a shoemaker in Wenling City when it collapsed at around 4 p.m. and 9 narrowly escaped. Rescuers saved 40 in the ruin and sent them to hospital.

The rescue work is still underway with the cause of the accident under investigation.
read & see more. (5 pages.) & to read. & to read.

20150704

*

14 remains trapped in east China factory collapse

:

Rescuers search for trapped people at a collapsed factory building in Wenling, east China's Zhejiang Province, July 4, 2015. The accident occured at about 4 p.m. Saturday. Thirty-seven people have been rescued and 14 others are still trapped. (Xinhua)
Fourteen people were still trapped in the rubble of a factory building that collapsed on Saturday afternoon in east China's Zhejiang Province, rescuers said.
The rescuers said 51 people were working in the factory building in Wenling City when it collapsed at around 4 p.m.. They have pulled 37 out.
More than 10 people have been hospitalized after the shoemaking factory collapsed, a local hospital said.
read & see more. (4pages.)

04

:

39

:

59

local time PHILIPPINES
20150706

* US urges Philippines to hold TPP consultations:

The Philippine government has been advised by the US to consult with other members of the Trans-Pacific Partnership (TPP) agreement as the country is interested to join the trade deal.

Trade Secretary Gregory Domingo said he met with US Trade Representative Michael Froman earlier this month and reiterated the country's interest to be part of the TPP.

"He said we should consult with other members (of the TPP). We have already consulted many," he said, noting exchanges have been conducted with more than half of the 12 members.
(…)

To become part of the TPP, the Philippines will need an endorsement from the 12 negotiating parties of the trade agreement, if and when a new round of membership opens.

Last week, US President Barack Obama signed into law the fast-track measure, which gives him the power to press on the TPP.

The measure is seen to accelerate negotiations for the TPP to be concluded soon, as it gives the US President authority to enter into the trade agreement and set procedures to expedite Congress' action on legislation needed to implement the deal.
read more.

20150706-07

* Police identifies all victims of Kentex fire, except one:

Police have identified all the Kentex factory fire victims except for one whom authorities plan to just declare as a missing person.

This, as police forensics experts were not able to extract samples from the recovered bone fragments due to the severity of the damage for the DNA testing.

With no DNA samples obtained,  a police source said the Philippine National Police (PNP) may just declare the victim as missing person which means that the family will have to wait for seven years before the declaration of death.

The declaration of death of a person is necessary for claims and other legal procedures.

The PNP Crime Laboratory is expected to release the findings of its scope of work for the Kentex factory fire in May that left 74 people dead.

It was recalled that fire engulfed the Kentex factory and trapped most of its workers at the second floor.
The fire started at the main gate where welding works were being done.
read more. & read more.

20150703

* DOJ finishes probe on Kentex fire, to release report soon:

The Department of Justice (DOJ) has finished its review on the findings of an inter-agency task force that investigated the Kentex factory fire in Valenzuela City that killed 72 people on May 13.

Justice Secretary Leila de Lima, in a text message on Friday, said she had received the report of the special panel of prosecutors tasked to evaluate findings and come up with recommendations based on evidence gathered in the report of Inter-Agency Anti-Arson Task Force (IATF) composed of the Department of the Interior and Local Government, Bureau of Fire Protection, Philippine National Police, and National Bureau of Investigation.

"I am now reviewing the report and might release it either next week or the week after," she said.
read more. & read more.

03

:

39

:

59

local time VIET NAM
20150707

* Vietnam mulls lowest minimum-wage bump in 3 years:

Laborers work at a garment factory in Sai Dong, outside Hanoi, Vietnam, July 1, 2015. Vietnam's economic growth could rise to 6.5 percent in 2015, beyond the 6.2 percent target, thanks to a solid manufacturing sector, the Finance Ministry said last week, citing a government think tank. Photo: Reuters
Vietnam looks to raise its minimum monthly salary by just above 10 percent next year, the lowest level since 2013, a move that apparently bows to the growing pressure of the corporate sector.
Under a government decree that took effect early this year, Vietnam raised the wage floor to VND2.15-3.1 million (US$101.4-$146.2), or 15 percent, depending on the location.
The government also approved a minimum-wage hike of around 15 percent in 2014.
But at a recent dialogue on wage polices, Vu Tien Loc, chairman of the Vietnam Chamber of Commerce and Industry (VCCI), told the press that his organization proposed an increase of "above 10 percent" to offset the recent currency depreciation and make sure that the salary raise is in line with the current labor productivity.
If the wage hike outpaces productivity, it would affect the operations of businesses and eventually have a bearing on economic growth, he said.
read more. & read more.

20150705

* Dialogue discusses employment, wages, and social insurance policies:

The Ministry of Labour, Invalids and Social Affairs, in collaboration with the Vietnam Chamber of Commerce and Industry (VCCI), organised a dialogue with the business community in Hanoi on July 3 to discuss labour policy, wages and social insurance issues.

At the conference, representatives from enterprises proposed adjustments on a range of regulations on wages, social insurance, overtime working hours, union fees and policies for women workers, as well as regulations on strike and records for foreign workers.

They argued that provisions on an overtime limit of 30 hours a month and 300 hours a year in Vietnam were stricter than other countries, with Japan at 360 hours/year, Malaysia 104 hours/month, and Taiwan (China) 46 hours/month.
read more.

20150707

* US, Vietnam look to early conclusion of TPP negotiations: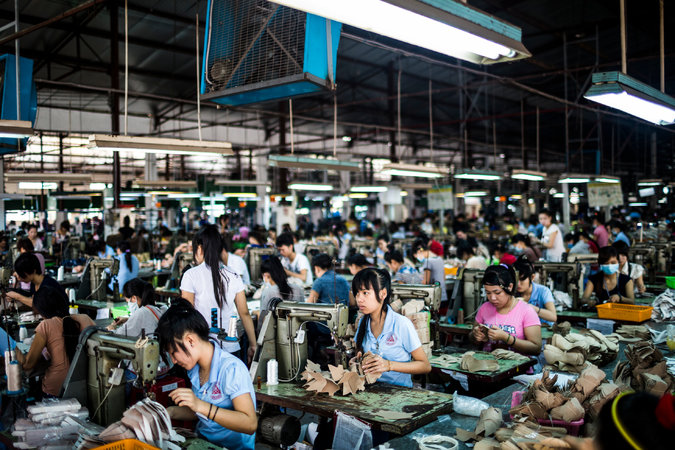 Vietnam has shown its commitment to the TPP negotiations and will closely cooperate with the US and other countries to speed up an early finalization of the negotiation process, Trong told Froman.
Party leader Nguyen Phu Trong and US Trade Representative Michael Froman expressed a desire to accelerate an early conclusion of the Trans-Pacific Partnership (TPP) negotiations at a July 6 meeting as part of Trong's ongoing trip to the US at the invitation of the US administration.
Trong congratulated the US administration on being granted the Trade Promotion Authority (TPA) by the US Congress, describing this a very positive signal for the process of the Trans-Pacific Partnership (TPP) negotiations towards an early conclusion of the trade deal.
US Trade Representative Michael Froman expressed his delight at his meeting with General Secretary Nguyen Phu Trong during the high-profile visit and believed that the Vietnam-US relationship as well as bilateral economic and trade relations will make great strides following the historic visit by the Vietnamese Party leader.
The US trade official hailed the achievements in economic and trade cooperation the two countries have recorded after 20 years of normalization of relations, noting that there is still huge potential for propelling economic and trade links forward in the future.
The US will continue to cooperate with Vietnam on the path of development and deeper integration into the global economy, he assured Trong.
read more. & to read. & to read. & read more. & read more.

20150706

* Trans-Pacific pact to reshape stock portfolios alongside trade flows:

Map locating trade blocs and nations that may join a proposed Trans-Pacific Partnership. Graphic: Reuters
Buy Japan. Buy Vietnam. Buy U.S. media stocks. Buy Mexican food stocks. Sell China.
For investors wanting to take advantage of the Pacific Rim free trade pact that appears to be nearing
completion, that's what a savvy stock strategy might look like.
read more.

20150706

* Garment firms queue up for TPP tariff incentives:

The wave of investment in Vietnam's garment and textile production shows no sign of stopping.

Polytex Far Eastern Vietnam, a subsidiary of the Far Eastern New Century Corporation (FENC) from Taiwan, has received an investment certificate from the People's Committee of the southern province of Binh Duong to invest US$274 million into building a textile and garment production site.

The 99-hectare project adds to FENC's existing Apparel Far Eastern garment production facility established in 2007 in Vietnam Singapore Industrial Park I, also in Binh Duong.

This investment is specifically aimed at exploiting business opportunities presented by the Trans Pacific Partnership (TPP). The upcoming vertically-integrated production site for yarn, fabrics, dyeing and apparel aims to meet the TPP's yarn forward rule.
read more.

20150705

* FDI flows into textile-garment projects:

The textile and garment industry attracted a majority of the biggest foreign direct investment (FDI) projects approved in the first six months of this year though localities earlier announced to keep away from such projects as they need lots of labor and pose risks of environmental pollution.

Early this week, the government of Binh Duong Province awarded an investment certificate to Polytex Far Eastern Co. Ltd. under Taiwan's Far Eastern Group to develop a US$274-million clothing project.

The biggest FDI project in the southern province in the year to date will go up on 99 hectares at Bau Bang Industrial Zone and produce supporting items for the apparel sector. It is designed to have an annual capacity of 43,200 tons of polyester, 127 million square meters of knitted fabric and 96 million square meters of cotton fabric.

The investor wanted to build the factory in Vietnam to capitalize on the opportunities from the Trans-Pacific Partnership (TPP). The group plans to invest an additional US$700 million to US$1 billion in the second phase of the project.

Earlier this year, three large-scale projects were approved for the textile and garment sector with two in HCMC and Dong Nai Province, according to statistics of the Foreign Investment Agency under the Ministry of Planning and Investment.

Dong Nai Province approved a US$660-million project of Hyosung Istanbul Tekstil Ltd. The largest project in January-June will make industrial fiber at Nhon Trach 5 Industrial Zone.

This is a Turkish-registered project but the actual investor is South Korea's Hyosung Group. Hyosung Vietnam Co. Ltd. has been a familiar face in the textile and garment sector in the province with total registered capital of over US$995 million.
read more.

201507034

* Viet Nam, Latin America to expand trade:

My Phong Shoe Company Limited in southern Tra Vinh Province's Tieu Can District produces and exports leather shoes to Latin America. Viet Nam and the Latin America have seen rapid improvements in bilateral trade in recent years. — VNA/VNS Photo Trong Dat
Viet Nam and Latin American countries have supplementary business structures, which could help boost economic development.
Pham Thi Thu Hang, general secretary of Viet Nam Chamber of Commerce and Industry (VCCI), made the remark at a workshop on business opportunities in the Southern Common Market (Mercosur) organised by VCCI and the Mercosur-ASEAN Chamber of Commerce.
read more. & read more.

20150707

* $90m fibre plant to be constructed in Tay Ninh:

The Century Synthetic Fibre Corporation has been licensed to build a US$90-million fibre plant in the southern Tay Ninh Province's Trang Bang District, Nhip Cau Dau Tu online newspaper reported.

Fibre production at Century Synthetic Fibre Corporation. The Corp got license to build a $90m fiber plant in Tay Ninh province. Photo vinacorp.vn

Covering an area of 100,183sq.m in Thanh Cong Industrial Zone, the plant will produce 15 million kilograms of fibre and yarn and 12 million kilograms of fabric and twine each year.

It will be jointly built by the Century Synthetic Fibre Corporation and the Uni Industrial and Investment Corporation.

The construction of the three-phase project is scheduled to be completed in the 2015-2016 period. Part of its production line will become operational in 2017, and the whole plant will be officially operational by 2021.

The Century Synthetic Fibre Corporation aims to earn nearly VND1.7 trillion ($78 million) in revenue this year.
to read in BUSINESS IN BRIEF 7/7. (3th item).

20150703

*

Binh Duong sees foreign investment boom in garment sector:

Over 50 percent of the 1 billion USD in foreign direct investment that landed in the southern province of Binh Duong was poured into the garment sector in the first six months of this year, according to Nguyen Thanh Truc, Director of the provincial Department of Planning and Investment.

The province has granted an investment certificate to Polytex Far Eastern Co., Ltd under the Taiwan Far Eastern Group.
With an investment of 274 million USD in the first phase, the company will construct a 99-hectare plant producing auxiliary products including cotton, synthetic and knitted fibres at Bau Bang industrial Park.

This is the largest investment project in the locality since the outset of this year.
read more. & read more.

20150705

* U.S. invests US$11.1 billion in Vietnam:

The U.S. is the seventh largest foreign investor in Vietnam with total registered capital topping US$11.1 billion since 1988, reported the Ministry of Planning and Investment yesterday.

American largest scale project is Ho Tram with a total capital of US$4.2 billion in the southern province of Ba Ria-Vung Tau. Besides, Intel Company has invested in a US$1 billion chipset plant in Ho Chi Minh City.
read more.

20150707

* Residential fire risk from factories worries HCM City:

Thousands of manufacturing facilities and businesses are operating in residential areas, posing threats to workers as well as local residents, city officials have said.

More than 20,000 manufacturing facilities and stores were at risk of fire, said Huynh Cong Hung, permanent member of the HCM City People's Council.

Of that figure, around 5,300 facilities operating in fuel, chemicals, footwear, textiles and garments were at high risk of fire, Hung said during the Listen and Discuss talk show on HCM City Television on Sunday.

"Local residents have expressed concern over the fire risk which could break out at any time," he said.
read more.

03

:

39

:

59

local time CAMBODIA
20150707

* NA puts brakes on rent hikes:

Lawmakers yesterday passed a rent control law for low-income earners and students, prohibiting landlords from increasing rent for two years once a contract is signed and allowing tenants to scrap a lease agreement without notice.

The law, which sailed through the National Assembly with 102 of a possible 104 votes, was welcomed by workers, students and labour rights groups, who have long campaigned against landlords raising prices on the back of minimum wage increases.

"I'm over the moon," said Song Danet, an 18-year-old student at Indradevi High School who rents a room in Tuol Kork for $70 per month excluding electricity.
(…)
"[Workers] are paid little; if their wages are upped a little bit, the house owners should not increase the rental prices," she said.
(…)

CLEC's Tola, meanwhile, said the price freeze would not have a significant impact on cost-of-living expenses ahead of coming wage talks, as food, transport and education prices still forced many workers to work overtime.

Kit Meng, a garment factory worker at the Kin Tai factory, hoped the law would bring relief from rising prices and protect tenants, although she remained skeptical about its implementation.
read more.

20150706

* Cambodian parliament passes rent control law:

The National Assembly of Cambodia on Monday adopted a draft Law on Rent Control with the aim of protecting workers and students from the longstanding problem of housing price hikes.

Some 102 out of 104 lawmakers, who were present during the parliamentary session, approved the draft law, which comprises 4 chapters with 11 articles.

The draft law particularly aims to control rental prices for garment workers, which have undergone surges since the garment sector's monthly minimum wage was raised to 128 U.S. dollars in January.

"This important legislation will be a legal instrument that gives opportunities to boost the implementation of the national policy on housing and contribute to attracting private investments to build rental houses with decent rental prices," said Pen Panha, chairman of the National Assembly's Commission on Legislation and Justice.
read more. & read more. & read more.

20150706

* GMAC to create new training institute:

The Garment Manufacturers Association in Cambodia (GMAC) has begun seeking technical advisors to assist in the creation of a Cambodia Garment Training Institute.

After receiving an approximately $3 million loan from French development body, Agence Française de Développement (AFD), GMAC has begun advertising for advisors who could help formulate curricula for students looking to either break into or receive additional education in the garment business, said GMAC secretary general Ken Loo.
read more. & read more.

20150707

* #LANGO: The Last 72 Hours:

Amid mounting national and international criticism of the proposed Law on Associations and Non-Governmental Organizations (LANGO), the ruling Cambodian People's Party has expedited the schedule to pass LANGO into law by calling an extraordinary session of the National Assembly on Friday July 10th. Join LICADHO for live coverage of the main events in the last 72 hours before the vote.

Livestream- overview here.

20150707

* CNRP shares LANGO tweaks:

The Cambodia National Rescue Party yesterday presented civil society representatives with its proposed amendments to the highly controversial draft NGO law, as a raft of organisations once again called on Prime Minister Hun Sen to scrap the legislation.

The action came just days before the draft Law on Associations and Non Governmental Organisations (LANGO) is reportedly scheduled to be voted on by the National Assembly.

Opposition lawmaker Son Chhay said the CNRP held the meeting yesterday to "hear from the NGOs what they want us to do".

"There was a mixture of suggestions", he said, explaining that some NGOs urged the party to participate in this week's expected parliamentary consultation so it can push for amendments, while others called for a boycott.
read more.

20150705

* Registration open for LANGO meet:

The National Assembly has announced that members of the public hoping to participate in the consultation regarding Cambodia's contentious draft Law on Associations and Non-Governmental Organisations (LANGO) will have until Tuesday to register.

In a letter dated Friday and signed by Assembly Secretary General Leng Penh Long, several commissions will hold a consultative workshop on the LANGO this Wednesday.

"For the public who wish to attend, they can contact the General Secretariat of the National Assembly from the date of notification until July 7, 2015," the notice reads.
read more.

20150704

* Say No! We Don't Need These Laws:

The CPP, Cambodia's ruling party, has announced its intention to hold an extraordinary session of the National Assembly on July 10th, during which members of parliament will vote on whether to pass the Law on Associations and NGOs (LANGO).

For the past three months Cambodian civil society has been voicing its opposition to the law and between June 28 and 30, numerous grassroots groups, networks and NGOs conducted a spirited 3-day campaign to protest against the LANGO and also the draft Trade Union Law.
Both laws have been widely criticised in Cambodia and abroad for the threat they represent to Cambodian civil society.
read & see more (video).

20150704

* LANGO Up for Discussion:

The Government has set Wednesday, July 8 as the date for a "consultation workshop" on the controversial draft Law on Associations and Non-Governmental Organizations (LANGO) to be held at the National Assembly.

On July 8 Wednesday morning, LANGO draft law will be put forward for discussion openly following Tuesday's march protesting against the draft law, which they claimed to hinder the work of associations and NGOs.

The meeting is organized by the Commission on Foreign Affairs, International Cooperation, Information, and Media in cooperation with Commission on Interior, National Defense, and Civil Service Administration, and Commission on Legislation and Justice.
Interested individuals are advised to register by July 7.
read more.

04

:

39

:

59

local time INDONESIA
20150703

* Sluggish Economy Forces 18 Textile Factories to Cease Operation:

The national economic slowdown has a major impact on the textile industry. Until now, at least 18 local textile factories have stopped operating and are forced to send employees home.

"Most of those factories still use old technology that is not efficient anymore," Ade Sudradjat, chairman of the Indonesian Textile Association, told Tempo yesterday.

According to Ade, factories with less sophisticated machineries are experiencing 30-40 percent production declines. Meanwhile, factories with advanced equipment are seeing a production decline of about five percent.

Out of a total of 5,340 textile enterprises, about 60 percent are still using less modern machines.

This production decline, said Ade, is driven by weakening domestic demand. Inevitably, companies are forced to send their employees home as they have cut the number of working days.
read more.

20150706

* New Documentary Unveils the Underbelly of Fast Fashion:

The film explores working conditions in factories used by some of retail's biggest names, including Zara and H&M. (Photos courtesy of Andrew Morgan)
Documentaries made about fashion generally present a fly-on-the-wall look at the creative powerhouses in the industry — designers, magazine editors, photographers — whose creations have captivated millions of people worldwide.
These films are often trapped within the luxury bubbles of fashion, be it at the grandiose French chateau of Valentino Garavani (as is the case in "The Last Emperor"), or inside an haute couture atelier, where a newly installed designer directed his underling to spray-paint an expensive white jacket black ("Dior and I").
It is the kind of story thread that one would not encounter in "The True Cost," a documentary directed by Andrew Morgan which aims to expose the grim reality behind fashion's global supply chain — especially that of fast fashion companies outsourcing their production to garment workers in developing countries.
read more.

20150706

* Trans-Pacific Pact to Reshape Stock Portfolios Alongside Trade Flows:

Buy Japan. Buy Vietnam. Buy U.S. media stocks. Buy Mexican food stocks. Sell China.

For investors wanting to take advantage of the Pacific Rim free trade pact that appears to be nearing completion, that's what a savvy stock strategy might look like.

The 12 nations of the Trans-Pacific Partnership (TPP) could wrap up an agreement in coming weeks, after the pact cleared a major U.S. hurdle with Congress's decision to give broad negotiating authority to President Barack Obama.

The deal, which covers 40 percent of the global economy and is expected to deliver $295 billion in annual global economic gains, will have long-term implications for Pacific Rim companies, and for competitors in countries that are late to the party or don't join.

Although details of the deal are still under wraps and full implementation is years down the track, fund managers are starting to look at the implications for long-term positioning.

According to an analysis by the Peterson Institute for International Economics and the East-West Center, the United States and Japan – the bloc's economic heavyweights – are likely to win the most in dollar terms, with big boosts to Japanese car and chemical exports and U.S. services.
read more.

03

:

39

:

59

local time THAILAND
20150707

* 'Bt300 wage only good for family of 2':

A family of three may not be able to rise above poverty on just the Bt300 minimum daily wage, a research director on labour development at the Thailand Development Research Institute said yesterday.

In regard to whether the daily minimum wage should be hiked early next year, Associate Professor Yongyuth Chalamwong said a study by his team found that the current wage could cater for a family of two living above the poverty level anywhere in the country.

However, Thailand's Bt300 wage would not be sufficient over time, as the International Labour Organisation said a worker's wage must cover two other two family members as well, he said.

An analysis of the Thai poverty level found that families of three in 61 provinces.
The people earning the Bt300 wage and having a family of three in municipal areas were living below the poverty line, while those outside municipal areas could support families of three better.

In reality, sole income-earners in a family had to do overtime or a sideline job on weekends or have their spouse do a part-time job, he said.
read more.

20150706

* Mae Sot SEZ ready for investment:

Members of the Federation of Thai Industries (FTI) are ready to invest in Mae Sot's special economic development zone (SEZ), which will be launched in the fourth quarter of this year, as the infrastructure is in place and the new regulations will foster business activities around Thailand's border area with Myanmar.

We are more than ready to go in [to Mae Sot's SEZ] and next week will have a press conference to announce not only our move into the development zone, but a whole new picture that the FTI is creating under the theme of pushing this country's economy forward with new economic activity and industry," said Nilsuwan Leelarasamee, vice chairman of the FTI.

"The government has already laid down the field but it needs people to invest in it and that is the responsibility of the private sector to make it a reality," he added.
read more.

03

:

09

:

59

local time BURMA/MYANMAR
20150707

* Garment manufactures oppose minimum wage increase:
Myanmar's garment manufacturers have signalled their opposition to a proposed national minimum wage of just over US$3 (S$4.05) per day, claiming the increase it represents could force some factories in the vital economic sector to close Asiaone Business reported on 6 July.
The apparel industry's resistance to paying the proposed daily minimum wage drew a sharp rebuke from local labour groups, as well as the International Trade Union Confederation (ITUC).
"The new minimum wage will still leave workers and their dependents just above the global severe poverty line of US$1.25 per person, and many will still struggle to make ends meet," said ITUC General Secretary Sharan Burrow according to the report.
read more.

20150706

* Myanmar trade organization urges employers to make concession over wage issue:

The Confederation of Trade Union of Myanmar (CTUM) has urged factory employers to make concession over the workers' minimum wage issue, suggesting them to take economic opportunities over the next two to three years into consideration in determining the wage, an official report said Monday.

Calling on factory employers to cooperate with the workers to boost productivity instead of disputing the proposed minimum wage, the CTUM suggested that the move would help them adapt to the country's changing situation in the years ahead.

Five Myanmar workers' federations in Yangon last Friday agreed on the government's recent designation of minimum daily wages, denying to accept further negotiations on the issue.

The workers' federations called for the formation of a socio- economic committee comprising representatives from the government, employers and employees to seek settlement of the issue.
read more.

20150706

* Trade union backs 3,600-kyat minimum wage:

The Confederation of Trade Unions of Myanmar (CTUM) has thrown its support behind a government-led proposal for a minimum wage in Burma of 3,600 kyat (US$3.60) a day.

In a press release on Sunday, the CTUM said that it welcomed the proposal submitted last week by the National Committee for Minimum Wage (NCMW), recommending to the Ministry of Labour a minimum national daily wage of 3,600 kyat for an eight-hour working day.

"We also agree with the fact that the minimum wage will apply nationwide regardless of the different sectors," it said.

The NCMW proposal followed two years of negotiations, culminating in a workshop in Rangoon last week involving garment factories' representatives, workers groups, employers' associations and government officials.
read more.

20150706

* Wage war heats up:

Workers are up in arms for a pay hike, but higher wages may hurt investment climate

Low wages in Myanmar, now among the lowest in Asean, have been mentioned as the primary advantage for companies planning to locate their manufacturing plants in the country.

Many companies have taken advantage of the situation.
The number of foreign-owned factories has been on the rise, despite the existence of major challenges, such as poor infrastructure throughout Myanmar.

According to data provided by the Directorate of Investment and Company Administration (DICA), 407 companies have invested a total of US$4.42 billion in the manufacturing sector, or 9.56 per cent of combined foreign investment in the country, as of May this year.

This amount reflects a 17.55 per cent increase from the $3.76 billion in investment in the manufacturing sector at the end of 2014. In terms of the number of investors, the figure rose by 13 per cent from 360.

More companies have committed to pour more investment into the sector, as the total number of foreign companies with permission at the end of May stayed at 497.
Together, they promised a combined investment of $5.65 billion, which would account for 10 per cent of the total foreign investment permitted.
read more.

20150704

* Labour organizations: don't view Myanmar workers as slaves:

As well as setting a minimum wage of Ks.3600 (U.S $ 3.2) per day, other benefits obtained by workers are needed in order need to see Myanmar workers as human beings instead of being seen as slaves, according to labour organizations at a news briefing on July 3.

The minimum wage for garment factory workers is less than the lowest minimum wage of government staff, and workers are demanding other benefits such as transportation fees, living expenses, and to get the opportunity to train while working.
They have also asked for Ks.10000 per year.
If the government agrees to their demands, they will also agree to the government's proposal of Ks. 3600, according to press brief made on July 3.

The press brief was held at the headquarters of Myanmar Workers Union in Insein, Yangon.
It was attended by representatives from five federations, the Myanmar Farmers' Agriculture and Production Federation, Myanmar Workers' Union, Myanmar's Teacher's Federation, Myanmar Seafarer Federation, and the Network for Migrant Workers.

"According to surveys made in Yangon and the rest of Myanmar, various options such as Ks. 5600, Ks. 6000, Ks. 7000 and Ks. 8500 per day were put forward. But, these five workers' federations have to choose the most suitable and the most feasible amount of Ks. 500 per hour for 8 hours per day (i.e.: Ks.4000) were set," said the Chairman of Myanmar Workers' Union, Aung Lin.
read more.

20150704

* Myanmar workers nod on minimum daily wage:

Five Myanmar workers'  federations in Yangon on Friday agreed on the government's recent designation of minimum daily wages as a final stage of negotiation, saying that there will be no further negotiation on the issue.

In its announcement over their stance on the issue, the five workers' federations stressed the need to form a socio-economic committee comprising representatives from the government, employers and employees.

The five workers' federations include Agriculture and Farmer Federation of Myanmar (AFFM), Myanmar Trade Union Federation (MTUF) , Myanmar Teachers' Federation (MTF), Myanmar Maritime Workers' Federation (MMWF) and Migrant Worker Rights Network (MWRN).

On June 29,  the government decided to designate 3,600 kyats ( about 3.27 U.S. dollars) as the proposed minimum daily wage for all workers in the country after conclusion of one year's coordination between the government, employers and labor representatives.
However, Myanmar's garment entrepreneurs on Thursday objected the proposed minimum rate, saying that the issue will be submitted to the regional authorities for further action.
to read.

20150703

* 200,000 jobs at stake as garment factories threaten closures:

The Myanmar Garment Manufacturers Association (MGMA) has threatened to close down factories if the proposed 3,600 kyat (US$3.60) per day minimum wage is approved by the Burmese government.

Representatives of Chinese- and South Korean-owned garment factories at an MGMA meeting on Thursday said they would shut down their businesses by September if the minimum wage proposed earlier this week by the National Committee for Minimum Wage (NCMW) were adopted.

Participants at the meeting unanimously objected to the NCMW's 3,600-kyat-per-day recommendation, saying it would be unaffordable.

Speaking to DVB on Friday, MGMA Secretary Khin Khin Nwe said, "We already promised to honour a minimum wage of 2,500 kyat. My point is that everyone wants to give their employees higher pay.
It's not for a lack of generosity, but simply because it is not affordable for us [manufacturers and factory owners]."

MGMA claims to represent about 300 firms, mostly garment factories, which employ upwards of 200,000 workers.
In a news release on its website on Tuesday, the owners association reacted to what it noted would be a "colossal" increase in pay.
read more.

20150703

* Garment manufacturers threaten to close factories if minimum wage implemented:

Several Chinese and South Korean garment manufacturers have threatened to shut down their factories and leave the country if the Myanmar government institutes a minimum daily wage of Ks 3,600 (just over US$3).

They manufacturers announced these conditions during a meeting of the Myanmar Garment Manufacturers Association (MGMA) in Yangon yesterday.

Sandar, the managing director of the Myanmar Apparel Co Ltd and Pearl Garment and local representative for a Chinese investment group, was the first to threaten to close her factory in response to the new minimum wage.

Won Ho Seo, chairperson of the Korean Garment Manufacturers Association, said Korean manufacturers would also close their factories following the Chinese, citing the likelihood of labour protests as the reason.

After the meeting, the Chinese Investors Association issued a statement in opposition to the proposed minimum wage.
read more.

20150703

* Garment Industry Rejects Minimum Wage Proposal:

Garment manufacturers in Rangoon announced that they will push back against a minimum wage proposed by the Burmese government, claiming they cannot afford to pay laborers the 3,600 kyats (US$3.24) per eight-hour day recommended by an expert committee.

More than 150 members of the Myanmar Garment Manufacturers Association (MGMA) convened on Thursday to discuss the proposal, which was announced earlier this week by Burma's National Minimum Wage Committee.

Following two years of research and analysis, the committee settled on the number based on  recommendations by both unions and employers against escalating commodity prices in Burma's emerging market.

Once approved, the wage would apply to all sectors with the exception of small and family-owned businesses employing less than 15 people.

The committee's memo, published in state media, invited individuals and organizations to submit appeals and recommendations within two weeks, after which a stakeholder meeting will be held before a wage is officially enacted.
read more.

20150703

* Myanmar: Employers Must Accept Minimum Wage:

Trade unions have reacted angrily to threats by Myanmar manufacturing companies, backed by Korean and Chinese business interests, to close around 100 factories if a minimum wage is introduced.

The government has announced a minimum wage of US$3.20 per day following a year of consultations between unions, government and employers.

Sharan Burrow, ITUC General Secretary, said "The new minimum wage will still leave workers and their dependents just above the global severe poverty line of US$1.25 per person, and many will still struggle to make ends meet.

Now, just like the American Chamber of Commerce's global campaign to undermine minimum wages and decent work, some companies in Myanmar are trying to stop workers getting even that basic level of income in order to survive.
read more.

20150706

* Japanese investors show growing interest in Myanmar but with caution:

Businesses from Japan are showing interest in Myanmar's untapped potential and a distinctive culture such as hand woven textiles but are investing cautiously as Myanmar has a range of problems that are barriers to investors.

The biggest problem is shortage of electricity.
They often suffer from power outages.
Another major problem is the vulnerability of the country's infrastructure such as roads, railways, communications, water supply and sewage systems.

Kyoko Okutani, the head of Women's World Banking Japan, who has helped more than 1,000 women launch their own enterprises in Japan enchanted by Myanmar made her fourth trip to Myanmar in early June to explore more business opportunities in the South-East Asian country, this time inviting designers from Japan.
read more.

02

:

39

:

59

local time BANGLADESH
20150705

* 70 DEPZ workers terminated over demonstration for overtime:

The management of a garment factory at Savar in Dhaka on Saturday terminated around 70 workers as they held demonstrations demanding overtime and allegedly clashed with the factory staff last week.

The terminated workers of FCI (BD) Ltd at Dhaka Export Processing Zone said they went to the factory in the morning after a four-day closure and found notices listing the names of the workers who had been terminated.

Witnesses said the management in the notices brought allegation of vandalism by the terminated workers at the factory and attack on staff on 30 June during their demonstration for overtime payment.

The police dispersed the workers when they tried to demonstrate at the factory protesting at their termination, they said.
The exact number of terminated workers could not be verified independently as the management did not allow reporters into the factory, rather assaulted a reporter while he tried to talk to the authorities and took a photograph of the factory.

Security guards of the factory, including Mintu and Ruhul Alim, seized the mobile phone set of the reporter of the Daily Star and hurled verbal abuse after being asked about the workers demonstration.
Md Mostafizur Rahman, director of Ashulia industrial police, said they had nothing to say about DEPZ factory.
But additional industrial police forces were seen in the factory area.
read more.

20150704

* 67 RMG workers sacked over vandalism in Savar:

The authorities of a garments factory here on Saturday morning sacked 67 of its workers over vandalism and arson attack in the name of movement.

The authorities of FCI (BD) Garments Limited in Dhaka Export Processing Zone
hanged a notice on the notice board publishing the names and photos of the accused 67 workers.
Security guards of the factory also obstructed them while entering the factory.

Police also chased them when the agitated workers staged a demonstration in front of the factory.

Earlier on June 31, the demonstrating workers locked into an altercation with a group of workers supporting the authorities that triggered a clash, leaving five people injured.
The factory was closed by the authorities following the incident.

The authorities reopened the factory this morning and sacked the workers for the violent incident.
Additional police personnel have been deployed to avert any untoward incident, said Mostafa Kamal, officer-in-charge of Ashulia Police Station.
to read. & to read. & to read. & to read. & to read.

20150706

* Bangladesh Women Workers Increasingly Empowered:

Women garment workers primarily fuel Bangladesh's $24 billion a year garment industry, yet women are "still viewed as basically cheap labor," says Lily Gomes, Solidarity Center senior program officer for Bangladesh.

"There is a strong need for functioning factory-level unions led by women," says Gomes, who is leading efforts to help empower women workers to take on leadership roles at factories and in unions throughout Bangladesh.
Some 60 percent of garment factory unions are now led by women, she said, and they are leading contract negotiations and discussions with government over improving working conditions.
read & see more. (video report.)

20150707

* Garments Workers of Asia Design Limited:

Garments Workers of Asia Design Limited staged a demonstration in front of the National Press Club in the city on Monday, demanding payment of three months' salary arrears and opening of the factory.
to read.

20150704-05

* Pay wages and Eid bonus to RMG workers by July 14, demands Workers Party:

Workers Party of Bangladesh brings out a procession in Dhaka on Saturday, demanding stoppage of corruption, controlling price hike of essentials, easing traffic jam, and payment of wage and allowance of workers before Eid. — New Age photo
Bangladesh Workers Party's Dhaka city unit here on Saturday demanded that the wages and Eid bonus of readymade garment (RMG) workers must be paid within July 14.
They came up with the demand at a rally organised in front of Jatiya Press Club.
Speaking at the programme, the party's Dhaka city unit president Abul Hossain said the government should take appropriate steps to make sure that garments owners pay the wages and Eid bonus of the workers within July 14.
read more. & read more. & read more.

20150705

* Structural faults found in 4 more RMG units:

The inspection teams appointed by the government and ILO have sent a list of three readymade garment factories to the review committee as the teams found structural faults at the units while the European retailers' group has sent the name of one more factory to the committee after detecting serious faults at the unit.

Veritas Engineering and Consultant, hired by the International Labour Organisation to conduct safety inspection in the garment factories which are not suppliers of the EU and American retailers groups, has recently found structural faults at Emerald Dresses Limited at Gazipur, Mouli Fashions Ltd at Tongi, Gazipur and Orient Dresses Ltd at Ibrahimpur in the capital.

The engineers of the consulting firm found risk in some columns and suggested the review committee to evacuate a portion of the buildings immediately.

On the other hand, the inspection teams of Accord on Fire and Building Safety in Bangladesh, the platform of EU retailers, found risk in the structure of Fakir Knitwear Ltd in Narayanganj and requested review committee to take the next course of action.

'We received the names of four factories, three from Veritas and one from Accord, in last week where they found problems in columns and floors overloaded,' Syed Ahmed, inspector general of the Department of Inspection for Factories and Establishments, told New Age on Saturday.
read more.

20150704

* It's an honour, not worry:

Bangladesh will not lose the trade benefits it enjoys as a low-income nation due to its graduation to the lower middle-income bracket but gain a lot of admiration, ministers and economists said yesterday.

Revelling in the achievement, Finance Minister AMA Muhith said: "We had been a low-income country for more than 40 years. We had set a target to achieve it by 2021. Now, we have got it."

The country's per capita income reached $1,080 in 2014, which is higher than the World Bank's criteria to move up to the lower middle-income bracket.
read more.

20150703

* Bangladesh higher in OECD rankings:

The OECD has upgraded the overall country ratings of Bangladesh by one notch for the resilience by its economy.

The Bangladesh Bank in a statement yesterday said the country moved to category 5 from category 6, which puts it just behind India but ahead of other South Asian countries.

Bangladesh has surpassed its neighbouring countries like Pakistan (7/7), Sri Lanka (6/7), Nepal (6/7), Myanmar (6/7) and Mongolia (7/7) in the OECD country classification, and is only behind India (3/7).

The major reasons for the promotion were the resilience of the Bangladesh economy and the high and stable growth for well over a decade despite political upheaval and weak external demand.
read more.

20150703

* Bangladesh to get middle-income status in 3 yrs: Tofail:

Commerce Minister and Awami League Advisory Council Member Tofail Ahmed today affirmed that Bangladesh will become a middle-income country within the next three years well ahead of the targeted 2021.

"The government has been working relentlessly to achieve the goal of middle income country within the next three years," he said while addressing an Iftar mahfil at a city hotel.

Bangladesh Nationalist Front (BNF) arranged the Iftar Mahfil. BNF President SM Abul Kalam Azad chaired the function.

Tofail said the World Bank recently declared Bangladesh as a lower middle-income country. He said, "Prime Minister Sheikh Hasina also expected that Bangladesh would not wait for the 2021 to achieve the status of middle income country due to increase of export earning, remarkable reserve and inflow of remittance."
read more.

20150703

* Bangladesh people don't belong to mid-income group: CPB:

Using false statistics, the government is claiming that Bangladesh has achieved middle-income country status, said Communist Party of Bangladesh (CPB) president Muzahidul Islam Selim.

He was speaking at a demonstration in front of National Press Club Friday afternoon.

"Though the country has achieved middle-income status, its people have not become middle-income group. We don't want to be middle-income country, rather we want to be known as middle-income group of people," he said.

Selim said an international announcement came on Wednesday, claiming that Bangladesh has turned into a middle-income country.
It is said annual per capita income of people is Tk 1 lakh. "Is it true? Does the country's people earn Tk lakh a year? So, the government has provided us with a fake information.
read more.

20150706

* Govt works for welfare of labour-class people: Shahriar:

State Minister for Foreign Affairs Shahriar Alam, MP, said the government of Prime Minister Sheikh Hasina has been working relentlessly for welfare of the hardworking labour-class people.

He said the Bangladesh in near future will be familiarised before the world arena as a progressive, developing and democratic nation.
read more.

20150705

* Children's apparel market relies heavily on import:

Despite being the second largest RMG exporters to the global market, the country's children's wear market depends nearly 60% on the import due to shortage of skilled fashion designers let alone quality and latest designs.  

During a visit to several shopping malls in the capital, the Dhaka Tribune found that most child wears sold in posh markets are imported from China and India, and to some extent, from Malaysia and Thailand.
read more.

20150705

* Garment exporters now look to conquer local market:

After conquering the global apparel market, the country's garment makers have now turned their attention to the domestic market, hoping to repeat their success.

Over the last one year, at least five export-oriented garment makers — who have been supplying clothing items to Western brands like Walmart, Hugo Boss, JC Penney, H&M, Marks & Spencer and so on for decades — have opened plush stores in Dhaka.

The size of the domestic fashion market will cross $5 billion a year, according to industry insiders.
read more. & read more.

20150704

* Crocodile skin export fetches $0.2m last year:

The country fetched about US$ 0.2 million in the just-concluded fiscal year 2014-15 by exporting crocodile skins to the world market.

A private crocodile farm-Reptile Farm Ltd (RFL) at Bhaluka, Mymensingh – exported skins of about 400 crocodiles to a Japanese firm in December last. Its officials expect more overseas sales in the current fiscal. This is the country's maiden crocodile skin export.

Earlier, in 2010, the same farm exported some 67 frozen saltwater crocodiles of different age groups to Germany's Heidelberg University for research purposes fetching around US$ 0.1 million.
It was also the country's first export of crocodiles to the international market.
read more.

20150707

* Govt to sign MoU with China soon for modernising jute mills:

State Minister for Textile and Jute Mirza Azam said the government will sign memorandum of understanding (MoU) with China soon for Balancing, Modernisation, Rehabilitation and Expansion (BMRE) work of all the jute mills under the Bangladesh Jute Mills Corporation (BJMC), reports BSS.

As per the MoU, the Chinese government will provide credit at 1.5 per cent interest to Bangladesh for executing BMRE work. The loan amount would be refunded within 20 years.

The State Minister made this announcement on Thursday while he was addressing a meeting with the Sramik League leaders of the BJMC held at the conference room of the ministry concerned in the city.
read more.

20150707

* Aleem Jute Mill workers announce fresh agitation programme:

Aleem Jute Mill workers again announced a fresh seven-day programme protesting the government's decision to privatise the mill.

The announcement came from a meeting held on Monday in the union office of the workers with convener of the Privatisation Resistance Committee Abdur Rashid in the chair.

The seven days programmes are meeting in front of the mill gate at 4:00pm on Monday, procession carrying sticks on Tuesday at 10:00am on Khulna–Jessore highway, protest rally at the same venue on July 8, procession carrying sticks again at 10:00am on July 9, protest rally at 10:00am on July 11, procession carrying sticks again at 10:00am on July 12 and protest rally on July 13.

They would go for tougher programme if their demands were not met by July 14.
read more.

20150705

* Jute cultivation gaining momentum in Bogra:

The farmers and officials concerned of Bogra district including its vast Barind area are expecting a satisfactory production of golden cash crop jute in this season if the climate condition remains favourable.

The cash crop is now growing well everywhere in the district as the farmers are rearing the cropland for getting huge amount of money from the land.

Deputy Director of Department of Agricultural Extension (DAE) Chandi Das said, "The department has set a target of bringing around 65,000 hectares of land in 12 upazilas of the districts during the current season but the farmers cultivated the crop on 70,000 hectares of land."
Besides, the DAE and many NGOs have taken adequate steps to succeed the programme in this season.

A farmer Golam Rabbany son of Lutfor Rahman Boronarayonpur village under Sibgonj upazila said, "The department has arranged a day long training workshop on Ufshi jute in the presence of marginal farmers recently."
read more.

20150707

* Weavers working round the clock to meet Eid demand:

Weavers in Tangail are toiling hard ahead of Eid, the largest Islamic holiday, to meet the demand of Tangail sari lovers.

Taant saris are largely produced in Pathrail, Chandi, Nalua, Mangolhor under Delduar Balla, Rampur, Chati Hati, Alenga under Kalihati upazila and Bajitpur, Korotia, Santosh and Kagmari under Tangail sadar upazila.

Hasan, a resident of Mongolhor area and also a weaver, said: "We produce saris from early in the morning to midnight, as demand for the home-made sari has increased extensively."
read more.

20150706

* Handloom industry turns busy ahead of Eid-ul-Fitr in Bogra:

Handloom industry has turned busy in Bogra district as local people demand a lot ahead Eid-ul-Fitr.

The weavers, who depend on the profession are passing time busily to provide new clothes for children, men and women.

A according to sources, around 5000 families, especially in Shawl, Pallapara, Futanigonj and Kanai village, are engaged in the district including 12 upazilas to make money.
read more.

20150707

* Exports shake off effect of political turmoil:

Bangladesh gets $31.2b in full-year earnings

Exports rose 3.35 percent year-on-year to $31.2 billion in fiscal 2014-15, a senior Bangladesh Bank official said.

But the amount was well below the year's target of $33.2 billion, which the industry insiders blamed on the quarter-long political turmoil.
(…)

The higher cost of production is also responsible for the lower export growth, especially in the garment sector, said Atiqul Islam, president of Bangladesh Garment Manufacturers and Exporters Association.

In the garment sector, the factories housed in shared buildings received fewer work orders as the retailers were concerned about workplace safety given the Rana Plaza collapse, Islam said.
read more.

20150707

* FY15 export earning growth lowest in 13yrs:
Total earnings stand at $31.19b against the govt target of $33.2b
The export earnings growth hit its 13-year low at 3.35 per cent year-on-year in the just concluded financial year 2014-15 as political turmoil in the country and decline in the readymade garment prices on the global market hurt the export business.
The growth was the lowest since the FY 2001-02 when it was 7.43 per cent.
The country's export earnings in the FY 2014-15 stood at $31.19 billion with a shortfall of $2 billion from the government-set target of $33.20 billion, according to the Export Promotion Bureau data which will be released today.
read more. & read more.

20150707

* Exports up 3.35pc in FY '15:

Short of target by 6.0pc

The country's merchandise export in the just-concluded fiscal year (FY) 2014-15 fetched US$31.198 billion (3119.8 crore), up by 3.35 per cent against the previous fiscal year's $30.176 billion, officials said.

However, the earnings fell short by 6.0 per cent of the target of $33.2 billion set for the last fiscal.

Vice Chairman of the Export Promotion Bureau (EPB) Shubhashish Bose attributed this to depreciation of the Euro and the Russian ruble against the US dollar and the fall in production at some local apparel factories in the face of ongoing safety inspections by the Alliance and Accord, two platforms of apparel buyers.

"Nearly 54 per cent of our export earnings come from the Euro zone which is now experiencing economic recession. That is why our exporters could bring home much less than the target," said Mr Bose.
(…)
The earnings in the FY 2014-15 from knitwear export stood at $ 12.426 billion, up by 3.13 per cent from the previous fiscal's $12.049 billion.
On the other hand, earnings from woven garment exports in the just-concluded fiscal stood at $13.064 billion, higher by 5.0 per cent compared to the previous export earnings of $12.442 billion.

Leather product exports in the FY 2014-15 saw 3.78 per cent growth and earned $249 million against $240 million of the previous fiscal.
Footwear export saw 10.43 per cent growth over the period.
read more.

20150707

* Trans-Pacific Pact to reshape stock portfolios alongside trade flows:

Buy Japan. Buy Vietnam. Buy US media stocks. Buy Mexican food stocks. Sell China.

For investors wanting to take advantage of the Pacific Rim free trade pact that appears to be nearing completion, that's what a savvy stock strategy might look like.

The 12 nations of the Trans-Pacific Partnership (TPP) could wrap up an agreement in coming weeks, after the pact cleared a major US hurdle with Congress's decision to give broad negotiating authority to President Barack Obama.
read more. (same Reuters article as under Indonesia and under Viet Nam).

20150706

* Entrepreneur makes it big with garment leftovers:

The entrepreneur, who hails from Munshiganj, now based in Tongi's Gedu Molla road first tried the route that many in Bangladesh do-by seeking work abroad.

But after seven years in Libya and Malaysia, the father of a boy and a girl had hardly made enough money to pay for his travel abroad.

That is when a close relative in business gave him the idea that changed his life and fortune-making caps from garment factory leftovers, 'Jhutkapar' in local parlance.

In the last seventeen years, Rafiq has indeed hit it big with his caps.

But it was never easy because no bank financed his business or when he was seeking to expand it.

He had to sell off his ancestral house to finance the factory, which now employs 40 workers on 14 to 15 machines.

He had to sell his wife's jewellery to raise Tk 16,000 to purchase his first machine employing two workers when he started "Shaon-Ripa Cap House" on advice from his nephew Abdur Rahman Pintu.

"When I started getting good returns in the first six months, I decided to expand but no bank would finance me. So I had to sell a part of my ancestral house for Tk 120 million (Tk 120,000) to buy a piece of land to start my present factory at Gedu Road (Tongi)," Rafiq told bdnews24.com.

Rafiq said he now employs 40 workers and has 15 machines to stitch caps.
read more.

     TAZREEN FACTORY FIRE
20150706

* Initiative starts to compensate Tazreen victims:

The families of Tazreen Fashions fire victims might receive compensation as per the International Labour Organisation standards before the third anniversary of the tragic incident as the C&A Foundation, an affiliate of Dutch retailer C&A, has started its work to develop a distribution methodology.

On the second anniversary of Tazreen Fashions fire tragedy, the C&A Foundation had pledged to contribute a significant amount towards full and fair compensation for those injured in the fire and the families of the dead in a deal with global union IndustriALL and the garment workers' pressure group Clean Clothes Campaign.

As per the agreement, the compensation amount will be determined based on the system already developed for the Rana Plaza victims.
read more.

02

:

09

:

59

local time INDIA
20150706

* Labour conference on July 20 & 21:

The conference will be held for the first time in over two years

In a bid to bring trade unions on board the government's key labour law reforms, Prime Minister Narendra Modi is likely to address the inauguration session of the Indian Labour Conference (ILC) on July 20 – a day ahead of the start of the coming Parliament session.

"It has been decided to hold the 46th session of the ILC on July 20 and 21. The Prime Minister is expected to inaugurate the event," said a senior labour ministry official, on condition of anonymity.

The agenda of the ILC will be decided by the standing labour committee (SLC), which will likely meet on July 10, sources said. Both the ILC and the SLC will be chaired by Union Labour Minister Bandaru Dattatreya.
Often termed as the "Labour Parliament" of the country, the ILC will be held for the first time in over two years.
It will be attended by the state labour ministers, representatives of the central trade unions, employers and Union government officials.
read more.

20150705

* Govt calls 46th Indian Labour Conference on July 17:

The Prime Minister will inaugurate the conference

Amid trade unions' strong protest against certain proposed amendments in labour laws, the government will hold the 46th Indian Labour Conference (ILC) to be inaugurated by Prime Minister Narendra Modi on July 17.

"Government will convene 2-3 days long conference from July 17. The Prime Minister will inaugurate the conference," a source said.

This conference is significant in view of ongoing protests by trade unions against the certain proposed amendments that are part of NDA government's labour reforms for improving ease of doing business to give a push to the 'Make in India' initiative.

The unions have strongly opposed some of the amendments that include norms related to easing retrenchment, lay offs and closer of units provision and forming unions under the proposed New Industrial Relations Code.

As many as 11 trade unions, including BJP-backed Bharatiya Mazdoor Sangh, will observe nationwide strike on September 2 against various issues.
read more.

20150705

* Workers protest as jute mill declares lockout:

Workers of Shri Bhajrang Jute Mill protesting against the decision of Management to lock out the Mill in Guntur on Saturday.- PHOTO: T.Vijaya Kumar
The management of Shri Bajrang Jute Mill declared a lockout on Saturday, taking over 3,000 workers by surprise and paving the way for registration of the property to a real estate developer.
Led by Bajrang Jute Mill Workers Union former president Lella Appireddy and CPI and CPM-affiliated unions, workers staged a sit-in at the Kankaragunta road-over-bridge.
Traffic on Pattabhipuram oad was blocked for over three hours.
Slamming the move to declare a lockout, Mr. Appireddy alleged that the management was colluding with real estate firms as the mill was in a prime location.
"The lockout has thrown over 3,000 workers on the roads. The State Government is turning a blind eye to the unilateral attitude of the management even though its actions are against labour rules," Mr. Appi Reddy said.
read more.

20150705

* Mixed reaction from helmet dealers to Labour dept. action:

There was mixed reaction from the dealers in helmets to the action initiated by the Labour Department on Friday against those selling helmets at exorbitant prices over and above the maximum retail price (MRP) and without MRP indication.

A dealer in Arni Road said that most dealers were forced to sell the helmets at prices above the MRP since the distributors in Chennai sold the helmets at the MRP to the dealers who had no other go but to sell them at prices above the MRP in order to make profit.
read more.

20150705

* Labour unions call for free distribution of helmets:

Demand-supply gap is shooting up the prices of helmets in Tirupur knitwear cluster and the textile workers, most of them employed on daily and weekly wages, are finding it difficult to purchase the head gears at affordable costs.

Labour unions like CITU-affiliated Baniyan General Workers Union and Tamil Nadu Tyagi Kumaran General Workers Union have come up with an appeal to the district administration to make arrangements for distribution of helmets free of cost to textile workers.
read more.

20150704

* Helmets, sold at exorbitant price, seized in Salem:

With complaints pouring in that helmets were sold at exorbitant prices at many shops, officials of the Labour Department conducted raids and seized 25 helmets sold at higher price and also sold by tampering the MRP display.

As per the Madras High Court's order and State Government's notification, wearing helmet was made mandatory for two-wheeler riders and pillion riders from July 1.
Shops selling helmets and roadside shops continued to do brisk business for the past one week.
read more.

20150704

* Indian apparel exports may be hit by TTP agreement:

Indian textile exports, especially apparels and denim, may be hit with the signing of largest free trade agreements, the Trans Pacific Partnership (TPP) agreement which the United States is in advanced stage of signing with 11 countires,
including Japan, Australia, Vietnam, Singapore and Cananda to enhance trade and investment among the TPP-member countries, promote innovation, economic growth and development, and support the creation and retention of jobs, apart from providing comprehensive market access by eliminating tariffs and other barriers to goods and services.

TPP is the initiative of the US with an aim to protect its domestic industry by gaining duty-free access to markets.
The negotiations to enter into TPP began in 2005 and are reaching final stages in 2015.
As per a report by IndiaNivesh Securities Private Limited, Asia Pacific is an important zone with respect to trade and all non-member countries are likely to be impacted by TPP.
read more.

20150704

* CETPs planned for textile dyeing units:

Tamil Nadu Water Investment Company (TWIC) is expected to submit its report to the State Government in a couple of months on the proposal to set up combined effluent treatment plants for textile dyeing units at five locations in the region.

Ashok Natarajan, chief executive officer of TWIC, told The Hindu here on Friday that it is preparing a feasibility report for the project that is planned at Erode, Salem, Namakkal, Komarapalayam and Karur and stakeholders meetings have been conducted for the purpose.

The project will get 50 per cent grant from the Central Government and 25 per cent grant from the State Government.
read more.

20150704

* Apparel and garment centre to come up in Mizoram soon:

The foundation stone for an apparel and garment making centre in Aizawl, the capital of Mizoram was laid by Textile Minister Santosh Gangwar today.

Apparel and garment making centres are being opened in every state of the Northeastern region as part of the initiative announced by Prime Minister Narendra Modi on December 1, 2014.

The centre will be the beginning of setting up an organized industry in Mizoram. The centre will be managed by the Ministry of Textiles for 5 years and will be handed over to the state government thereafter.
read more. & read more.

20150706

* Government reworking its strategy on FTAs:

The government of India as it revives its push for bilateral deals to corner a greater share of the export market is reworking its strategy on free trade agreements (FTAs).

Rules of origin are at the heart of these agreements as they are meant to check routing of third-party goods via countries with which an agreement is signed.

Over the years, India has insisted on a system where at least 30-35% value addition takes place in a country with which it signs a trade agreement. In addition, there has to be a change of heading, which means yarn should be finished into a product.
read more.

20150705

* Fortnight without rain, crop failure fear grips farmers:

The district has recorded an impressive 88% sowing till Friday this season, but the recent dry spell has left the farmers a worried lot.

With the satisfactory spells of monsoon showers early in the season, the farmers were excited and started sowing maize, cotton, bajri, sunflower, soyabean, sugarcane, pulses and other varieties of crops.

The climatic conditions, however, changed drastically and the district is not receiving any rain for the past 14 days.

The farmers are now fearing a negative impact on the crop if the current spell stretches too long. Farmers also fear shunted growth of cotton saplings that would eventually dip cotton production.
"At this point in time, the saplings need consistent supply of water but due to deficit rains the saplings are not growing in desired manner. Maize and bajri saplings may also see shunted growth in the current season," said Tulsiran Jadhav, a farmer.

"Fortunately we have got enough rain at the beginning of the season to start sowing.
The conditions were ideal for sowing but now the climatic conditions have changed as there is no rain in the district. If it doesn't rain in the next eight to ten days, we may suffer a huge lost to the crop," district superintendent agriculture officer P D Lonare said.
read more.

20150707

* Committee to Inquire into Farmers' Suicides:

The state government has decided to set up a committee to inquire into the series of farmers' suicides in June.

Agriculture Minister Krishna Byregowda told the Assembly on Monday that the government was shocked by the sudden spike in farmers' deaths.

In order to find out the reasons, a committee will be set up soon, he added. He was replying to the discussion on the demands of his department for the current financial year.

"We are pained by farmers' suicides. We are also unable to understand the reasons behind such a spike in suicides," Byregowda said.

Further, he said, a vision group under Dr M S Swaminathan would be set up to study the agricultural conditions in the state, including the problems faced by farmers, and suggest remedies.
read more.

20150704

* Caught in Debt Trap, Farmer Commits Suicide:

A 30-year-old farmer allegedly committed suicide by consuming pesticide near Koradacherry in the district on Saturday.

While the deceased's wife claimed that crop failure forced him to take the extreme step, police version said the man ended life due to mounting debt burden.

According to sources, K Mathiyazhagan (30), a resident of Simizhi Thoppu in Poonga Nagar near Koradacherry, had sown cotton on his three-acre field. Expecting a good harvest, he had also taken on lease two acres belonging to another farmer.

Mathiyazhagan had incurred huge debts to cultivate the crops. However, misfortune struck in the form of unseasonal rains, which damaged the flowering crop.
Mathiyazhagan's wife claimed that every time he visited the fields, he would return depressed after seeing his withered crops.
read more.& read more.

20150704

* Debt-ridden farmer commits suicide in Yadgir:

A debt-ridden farmer, who consumed pesticides in the field in Mudanur village in Surpur taluk of Yadgir district, died in a private hospital at Vijayapur late on Friday.

The deceased has been identified as Paramanna Madivalappa Tilagul (48) of Mudanur village.

Immediately after noticing the incident, neighbours and village residents took the farmer to the government hospital in Kembhavi, where he was given preliminary treatment and referred to Vijayapura for further treatment.
He succumbed late at night, sources said.

Surpur tahasildar Arun Kumar Kulkarni told The Hindu over phone that the deceased had availed a loan of Rs. 1.18 lakh from a nationalised bank to cultivate cotton crop on 13 acres of land.

According to some residents, he also availed a loan of Rs. 6 lakh from others to develop the land. He had been unable to repay the loans owing the the price cash, they added.
read more.

20150704

* Pioneers in textile:

Diwan Bahadur P.Somasundaram Chettiar (1861 – 1929) and his son P.S.Sathappa Chettiar did much to put Coimbatore on the textile map of the world.

Somasundaram was born to M.Perichiappa Chettiar and Meiyyammai in Devakottai.
He was a precocious child who had a thirst for learning both English and Tamil. Eventually, his business acumen attracted the attention of the Zamindar of Devakottai, Arunachalam Chettiar.
The Zamindar wanted Somasundaram to bail out the loss making Malabar Spinning and Weaving Company at Kallai, near Kozhikode.

Somasundaram accepted the managing agency on behalf of the Zamindar in 1899 and relocated to Kallai.
Somasundaram brought the mill was back on its feet. Somasundaram foresaw the efficacy and advantage of putting up a mill in Coimbatore and thanks to the endorsement of the Zamindar of Devakottai, Kaleeswarar Mills was incorporated in 1907 and began production by 1910.

Both Kallai Mills and Kaleeswarar Mills did very well and the Rs.100 paid up share of the Kallai Mills went up to Rs.600 from Rs.20!
The Government of the day conferred the title, 'Diwan Bahadur' on Somasundaram Chettar.
read more.

02

:

09

:

59

local time SRI LANKA
20150705

* Outsourcing, insourcing and precarious labour issues at Colombo discussion:

A Colombo discussion on Monday on 'labour issues and outsourcing trends' triggered a debate on the meaning, definition and misconception of the word "outsourcing".

The three panellists at the monthly meeting of the Sunday Times Business Club (STBC) held on Monday at the Cinnamon Lakeside hotel, sometimes agreed, sometimes differed in their views on outsourcing.
At the end of the day (end of the meeting) however there appeared to be a clearer understanding of outsourcing, its advantages and disadvantages.

The panel comprised Ajantha Dharmasiri, Director and the Chairman of the Board of Management of the Postgraduate Institute of Management, University of Sri Jayawardenapura, Ravi Peiris, Director General/CEO, Employers Federation of Ceylon and Buddhima Padmasiri from the Collective for Economic Democratisation and their task was to analyse new trends in labour inclusive of outsourcing, temporary workers and the future of permanent employment.

Dr. Dharmasiri said outsourcing was not labour sourcing and noted that there was some misconception about what it meant.
He referred to the current existence of BPOs (Business Process Outsourcing), and said this activity has been there for many decades. He cited the example of the gardener, carpenter, security guard and other services that households and companies have sought over the years.
read more.

01

:

39

:

59

local time PAKISTAN
20150705

* Fire damages hosiery factory:

A fire break out in a hosiery factory in the SITE area and destroyed 100 machines and a big quantity of cloth on Saturday.

A fire brigade official said, Active Natural, the hosiery factory near Zia Morr, caught a second degree fire which affected 100 machines and a big quantity of cloth.
The fire was put out by eight fire tenders after a battle that lasted four hours. No causality was reported.
The official said the reason for the fire was yet to be ascertained.
to read.

20150706

* Ehtiram-i-Ramazan: Residents protest arrest of 'fasting' workers:

Scores of residents of Ghulam Muhammadabad on Sunday protested against police for arresting 70 power loom workers for violating the Ehtiram-i-Ramazan Ordinance.

The protesters blocked Qaim Sain Darbar Road and demanded their release.
They also burnt tyres and threw bottles on the road, suspending traffic for several hours.

Talking to newsmen, Shabbir Hussain, one of the protesters, said the assistant commissioner had led a police team that had arrested power loom workers who had been fasting.

"They told them that they were observing a fast and begged police not to arrest them but to no avail," he said.
read more.

20150706

* Powerloom workers deride govt over 'unscheduled' outages:
Unscheduled power suspension has irked several powerloom workers, including Abdul Hameed, 55, who left his weaving unit in Faizabad on Sunday night cursing Faisalabad Electric Supply Company (Fesco) officials.
Laying a cloth on the floor, Hameed sat down on it when Nasir Alam, a worker from a neighbouring factory, joined him.
Hameed said the government had resolved to provide smooth power supply to the industry even in Ramazan that rekindled hopes among workers.
However, all statements proved hallow slogans only and weaving units were facing hours-long outages.
Talking to Dawn, Hameed said: "We were told that units will face power outages during Sehr and Iftar, which was a good strategy. However, the government failed to honour its words as the industry was facing unscheduled loadshedding."
He questioned how workers would earn money to provide for their families for Eid.
read more.

20150704

* Aptma's 'voluntary closure' option for mills mulling strike:

The All Pakistan Textile Mills Association (Aptma) announced on Friday that its members could adopt "voluntary closure" as an alternative to a strike in protest against the continuing crisis faced by the textile industry.

According to the chairman of the association, S M Tanveer, while Aptma had tried to persuade its member not to go on a strike, textile mills unable to continue their operations were free to cease production, a press release from the organisation said.

"We do not want to confront the government," he declared in his remarks at a meeting, "but the unfair measures it has adopted to squeeze money from the millers are deeply resented by our members."

He once again warned that while Pakistan's textile sector was already "on the verge of collapse," a similar fate was going to befall the value-added sector when its stocks are exhausted and it is left starved of yarn and fabric.
read more.

20150704

* Forced closure: Textile millers decide to close down business after Eid:

Punjab-based textile millers have decided to close down their industrial units, blaming direct and indirect taxes coupled with the energy crisis as the core reason for them to take the extreme step.

The millers had announced a voluntary closure of their mills a few days ago, but now they have called for a 'forced closure' after Eid.

"We had persuaded our members to not go on strike but the current scenario has tied their hands and they have no choice but to opt for the closure," said All Pakistan Textile Mills Association (Aptma) Chairman SM Tanveer.

He said the situation was getting tougher every passing day, adding the basic textile sector was on the verge of collapse.
read more.

20150704

* 30% textile industry in Punjab closed down:

At least 30 per cent textile industry in Punjab has been closed down, as the cost of doing business in the textile sector has skyrocketed and the burden of incidental taxes, provincial cess, system inefficiencies and the punitive withholding tax regime have added fuel to the fire.

Government should provide level playing field to double its existing share in global textile trade.

APTMA Chairman SM Tanveer urged the government to restore the competitiveness of the industry by ensuring uninterrupted supply of gas and electricity at regionally affordable rates, liquidation of all pending refunds, removal of all innovative taxes and restoration of zero rating regimes for the whole textile chain.

SM Tanveer, talking to a select group of journalists, complained that the government had failed to bring the unorganized power looms and sizing sectors into the tax net and burdened the textile industry with a 0.6-percent tax on each transaction plus a five-percent sales tax.
All these incidentals and punitive measures have hit the sustainability of the textile industry in Pakistan.
read more.

20150704

* Textile woes: Exporters express dismay:

The textile exporters of Faisalabad have stressed the need for creating a stable environment with more market access to deal with competitiveness issue.

The textile industry is the only hope for revival of the country's economy which is currently jolted by a high cost of doing business, said Pakistan Textile Exporters Association Chairman Sohail Pasha.

He said the sizeable textile capacity has been severely impaired and textile exports, both in quantity and value terms, have declined.

The major factor behind the declining trend is the erosion of textile industry's competitiveness, particularly against the huge incentives being provided by the competing countries to their export sectors.
With government support, regional rivals have accelerated export growth and have increased their market share in global textile trade, added Pasha.
to read.

20150704

* Government increases cost of business by 12%: APTMA:

All Pakistan Textile Mills Association has accused the government by burdening taxes and shifting the recovery and line losses of electricity to it.

Increasing the cost of business in textile industry by 12 percent is a fast turnover, the association said, "The recovery losses of power sector distribution companies are 13 percent and the line losses are 6 percent.
The government has burdened the industry by Rs 2.5 per unit and shifted the burden of 50 paisas per unit against the interest paid on loan it got from banks to pay Rs 480billion circular debt.
to read.

20150706

* Cotton growers' woes traced to 'secret agreement' on GM seeds:

Cotton growers' current woes with the genetically modified (GM) Bt seeds have been traced to an agreement that a national research institute signed with a multinational biotech seed producing company in 2006 over the head of Pakistan government, according to knowledgeable sources.

"Dr Yousaf Zafar, the then director of the National Institute of Biotechnology and Genetic Engineering (NIBGE), signed the agreement with the US-based Monsanto multinational, keeping the ministries of foreign affairs, agriculture and environment and even the Pakistan Atomic Energy Commission in the dark," said a senior official of the Pakistan Agriculture and Research Council (PARC).

Under the agreement, NIBGE provided seven indigenously developed cotton seed varieties to Monsanto which inserted Bt toxin into them to kill selective pests, such as bollworms.

But their trial tests were run in the USA and then shipped back to Pakistan in 2011 and introduced commercially, even though the Plant Quarantine Act 1976 prohibits import of cotton seed, especially from America.

"Since these genetically modified varieties had not been tested in local environment, they bore no guarantee that they will be disease free and not harm the environment and human health in Pakistan," said the official.
read more.

20150705

* Baldia factory fire: Judge irked by delays in investigations:

Seemingly irked by the never-ending excuses, the district court trying the Baldia factory fire case has sought the investigation report of the case by August 1. 

The judge, Naushaba Kazi, who is hearing the case of the country's worst industrial disaster that claimed the lives of 250 labourers, expressed displeasure over the delay in the submission of the report by the new investigation officer, SP Sajid Sadozai, on Saturday.

She asked Sadozai when the re-investigation of the case will be completed, to which he failed to give a time frame. Instead, he submitted two notifications pertaining to the constitution of an inquiry committee.
read more.

20150705

* Court seeks Baldia factory fire reinvestigation report by Aug 1:

Owners of Baldia industrial unit, a general manager and three gatekeepers were initially booked in the tragic incident. —AFP/File
A sessions court on Saturday directed police to submit a re-investigation report in the fire-wrecked garment factory case till Aug 1.
The owners of the Baldia industrial unit, a general manager and three gatekeepers were initially booked and charge-sheeted in the tragic incident in which over 250 workers were burnt in September 2012.
The provincial authorities ordered reinvestigation after a joint investigation team report filed in the Sindh High Court stated the factory had been set on fire over non-payment of extortion money.
When the case came up for hearing on Saturday, additional district and sessions judge (west) Naushaba Kazi expressed her displeasure over the delay in the submission of the re-investigation report.
When she asked SP Sajid Sadozai, the new investigating officer, about the time frame required to complete the reinvestigation, he failed to give any.
Instead the officer, who was tasked to reinvestigate the case in March, submitted two notifications pertaining to the constitution of an inquiry committee.
read more.

TURKEY
* Turkish textile hub hopes to regain losses from Russian crisis in coming season:
The Laleli quarter of İstanbul known as Turkey's textile hub with hundreds of shops sell clothing products at the retail and wholesale level mainly to Russian buyers.
In the past year and a half having been experiencing a serious Russian-based crisis.
They have confronted the economic difficulties that have arisen from this crisis, and in the last few months they have been diminished.
Despite a major drop in the Russian business integral to Turkey's textile industry, the sector is hopeful that it will make up for its losses in the coming season, according to statements from industry leaders.
The Turkish textile hub has a decades-long history of customers from Russia and from other former Soviet states purchasing textile products to sell in their home countries.
Laleli Industrialists and Businessmen's Association (LASİAD) Chairman Giyasettin Eyyüpkoca, speaking at an iftar dinner arranged by the association late last month said that in the upcoming season they anticipate at the very least, the compensation of a large portion of their losses as Russia is bouncing back.
read more.

TURKMENISTAN
* Turkmenistan to streamline its textile industry to attract investments:
Turkmenistan plans to streamline its textile industry to increase the manufacturing of competitive products and attract investment in this industry as it holds an important place in its economic system, the country's President Gurbanguly Berdimuhammadov said.
Turkmenistan traditionally grows cotton, which serves as a basis for developing the textile industry. The annual turnover of the textile industry is about $400 million as of 2014.
During the last meeting of the Cabinet of Ministers, the issues related to the development of the textile industry were discussed.
This industry was represented by 74 companies – 32 textile complexes, cotton spinning and weaving factories, 17 garment factories, seven silk industry enterprises, two wool processing and three knitted goods enterprises – as of 2013.
read more.

.